Putting Programmatic on the Path to Maturity
Marketers are ready for programmatic to "grow up," take them to the top of the branding funnel and provide better advertising experiences for consumers, according to a recent study by MediaMath and eConsultancy. The report highlighted the current state of data-driven advertising and what marketers are clamoring for from their technology partners:
Consumers are barraged by increasingly annoying, intrusive, irrelevant or overbearing ads. Meanwhile, the proliferation of media touchpoints means marketers are being forced to manage increasing complexity in their activities, yet continue to have limited tools to efficiently execute and measure its impact. The result is an alarming level of distrust and tension in the industry, massive waste of time and resources and a general stifling of innovation.
We couldn't agree more. Semasio's unique semantic approach to audience creation is premised on enabling more relevant, non-intrusive and respectful data-driven advertising experiences for consumers.
Since its inception, programmatic has been generally focused on lower-funnel, direct-response tactics. As the research shows (below), driving brand awareness is a top-three goal for marketers. They are starting to take programmatic seriously for branding and for awareness, not just as a direct-response-generated source of revenue that uses simplistic attribution models. Client expectations for their partners have evolved and grown up. The industry is maturing up the funnel -- we welcome marketers there.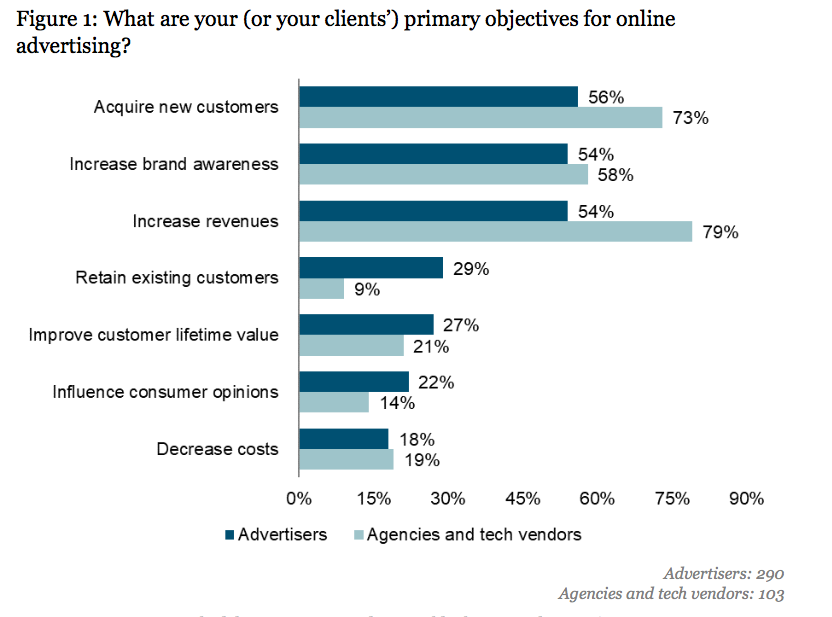 Our Semantic Custom Audiences enable marketers to drive customer acquisition and increased brand awareness by identifying consumers that are semantically similar to their current customers. For example, a marketer could say "Your content consumption profile is very similar to people signing up for a test drive in our electric car, so even though you don't really know it yet, we think that you might be interested in it too."
Nearly three-quarters of the survey respondents were brands, and many of the forward-looking questions expressed their aspirations for what they'd like programmatic partners to help them achieve. It is very encouraging to see that we're already empowering marketers do what they have expressed as their number-one desire (below): The ability to dynamically segment audiences.
The brands and agencies we work with have found that generic, off-the-shelf segments don't deliver value and efficiency for their programmatic campaigns. Rather than fighting with competitors over stale and vague segments, they want to be empowered to create bespoke audiences for specific marketing goals. And, they want those audiences to constantly adapt to ever-changing marketplace realities.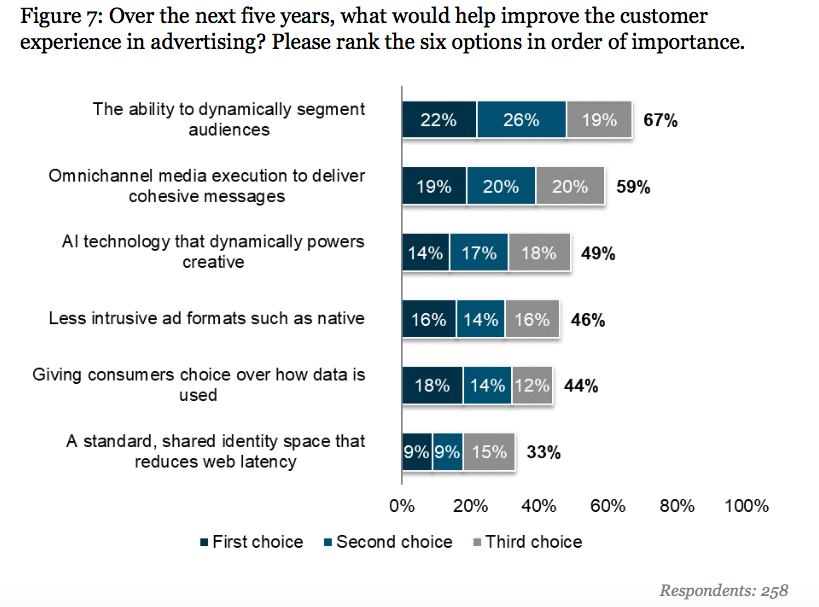 It is clear that marketers recognize the value of respecting consumers and engaging them with relevant messaging -- important for a study focused on ways that the advertising "customer experience" can be improved. Our platform does just that. Semantic Custom Audiences respect consumer preferences, providing better and more relevant ads. At the same time, Semasio gives brands control, transparency and ownership of their Custom Audiences. This helps marketers to be good corporate citizens and provide great advertising experiences.
Kasper is the CEO of Semasio, based in New York City.