PAKCON 2021 and the Future of Targeting: A privacy-first approach
Semasio's co-founder and CEO, Kasper Skou, had the opportunity recently to speak to attendees of Project A's annual Knowledge Conference – PAKCon – about "The Future of Targeting in an increasingly Privacy-First World". Every year, PAKCon brings together people interested in digital innovation, venture capital, and entrepreneurship to share best practices on everything from marketing to sales, data science to product management.
Kasper and Project A Founding Partner, Florian Heinemann, took a look at the challenges of targeting in a privacy-first era. When targeting began in the "noughties", as Kasper is fond of calling the early 2000s, the approach was contextual. Third-party cookies hadn't yet come into broad use, and the assumption was that advertising should reflect the message on the page. If you were looking at pages that addressed new car models, for instance, then the chances were that you were in the market for a new car. If you were reading about watches, then you might be looking to buy a new watch.
The teens gave us performance targeting. With third-party cookies, we could challenge some of those early assumptions by targeting individual users and their specific interests. Third-party cookies allow advertisers to track users across the internet, from one site to another, and to target them wherever they go. This showed us that a wider range of variables drive purchasing impulses. User activity had more to say about how and when a person would respond to a digital ad, and more importantly, what kinds of ads they would respond to. We discovered that ads could be successful regardless of context if they accounted for individual user activity.
What's past is prologue
The move into the privacy-first era means that much of that targeting is either useless or moribund. Even if Google has delayed its deprecation of third-party cookies in Chrome to 2023, privacy-first policies in Firefox and Safari mean that user-level targeting is already impossible for many consumers. Either the browsers are automatically set to block third-party cookies, or the consumer chooses to block them. In either case, user-level targeting no longer performs as it once did. It's a simple fact that the industry doesn't talk enough about.
But there's good news
As Kasper points out in his talk, the elements of sustainable targeting in the privacy-first era are already there, and in fact, some organizations are already using them. Audi Denmark has had proven success with a privacy-first approach. Although we're not sure whether the terminology will take hold, Kasper and Semasio like to think of the future in terms of truly Unified Targeting.
Unified Targeting is a new discipline that bundles together all the approaches of the past to create a future-proof targeting solution. By using an entire portfolio of different attributes, including user identifiers, page URLs, device types, geo location, time of day and day of the week, as well as extending those data sets to enrich each other, Unified Targeting is designed to give users the data they need to make the best possible decision to influence consumers' buying decisions.
Why does Unified Targeting work?
It puts privacy-first.

Instead of relying only on third-party cookies, Unified Targeting uses all available signals to find the best places for your ads. You can also use first-party data or any other seed audience you have available to find and model your target audiences.

It builds on your best-practices.

Use data about actual converters to find more like-minded users. There's no reason to throw away successful strategies and segments. Use those insights to optimize and enhance your targeting whatever kinds of data you're using.

It prioritizes flexibility.

Diversifying approaches and data sources means that you are ready to tackle whatever change may bring. If Google once again extends the Chrome cookie deprecation, you will still be able to use whatever third-party cookies are available. If not, then you already have a broad portfolio of data sources. Additionally, the approach is open for new kinds of identifiers, so it can easily be extended to include changing technologies and new opportunities.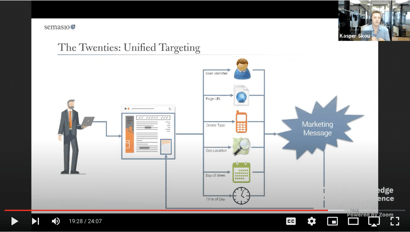 Check out Kasper's masterclass to learn more about why Unified Targeting creating new opportunities in our cookieless future.