Audi Denmark Engages Consumers Without Cookies
Unified Targeting test with PHD Media Denmark and Semasio bridges the gap between Audience and Contextual targeting, paving the way for the privacy-first era
Today Audi Denmark announced the results of a first-of-its-kind Unified Targeting test deployed in a largely cookie-less environment through a partnership with PHD Media Denmark, an Omnicom Media Group Company, and Unified Targeting provider Semasio. It revealed that novel targeting strategies such as excluding consumers not in the market to buy a specific car model or least likely to purchase one is an effective, privacy-friendly way to reach new prospects and content not captured by more traditional targeting methods. Additionally, seamless extension of available modelled 1st-party data to similar user profiles and content they have in common open up net new pockets of value for reaching the most likely buyers.
The Unified Targeting test took place in Denmark, which is an interesting market as only around 35% of Danish consumers are targetable on the user-level owing to high Safari market share coupled with one of the strictest interpretations of GDPR's consent collection rules.
"With competition intensifying over fewer known users and premium content, it's crucial to find future-proof alternatives now," said Frederik Meincke of PHD Media Denmark. "We're always looking for full control and transparency over campaigns to generate actionable insights and optimize the bidding strategy at run time to meet the performance requirements of Audi Denmark. With Semasio technology we're able to do exactly that."
Working alongside PHD Media Denmark and Semasio, Audi Denmark ran two Unified Targeting test campaigns to respond to these market changes.
In the first campaign Audi targeted personae of the most likely buyers and excluded personae of the least likely buyers based on their typical media consumption patterns and socio-demographic characteristics, both on a user-level (Audience targeting) and page-level (Contextual targeting). With equal spend on all four targeting approaches, Audi generated 70% of total conversions in the test through the novel Audience and Contextual Exclusion strategies.
"This was somewhat of a surprise to us, and it shows the power of taking a different approach to targeting by specifying what you don't want instead of specifying what you want, especially in a market with low user-level targetability and thus intense competition for limited relevant users and contexts," added Meincke.
In the second campaign, Audi used its 1st-party data to model and find more users with similar semantic profiles to the actual converters. Additionally, these 1st-party audiences were projected onto contexts using Semasio's Contextual Audience Extension, which identifies sites and pages, where the converters are greatly overrepresented. Both 1st-party data-based strategies – the more traditional Audience Extension and the novel Contextual Audience Extension – outperformed personae inclusion strategies of the most likely buyers, reducing eCPA by 59% and 81% respectively, and proving to be as effective as inferred exclusion strategies in the first campaign.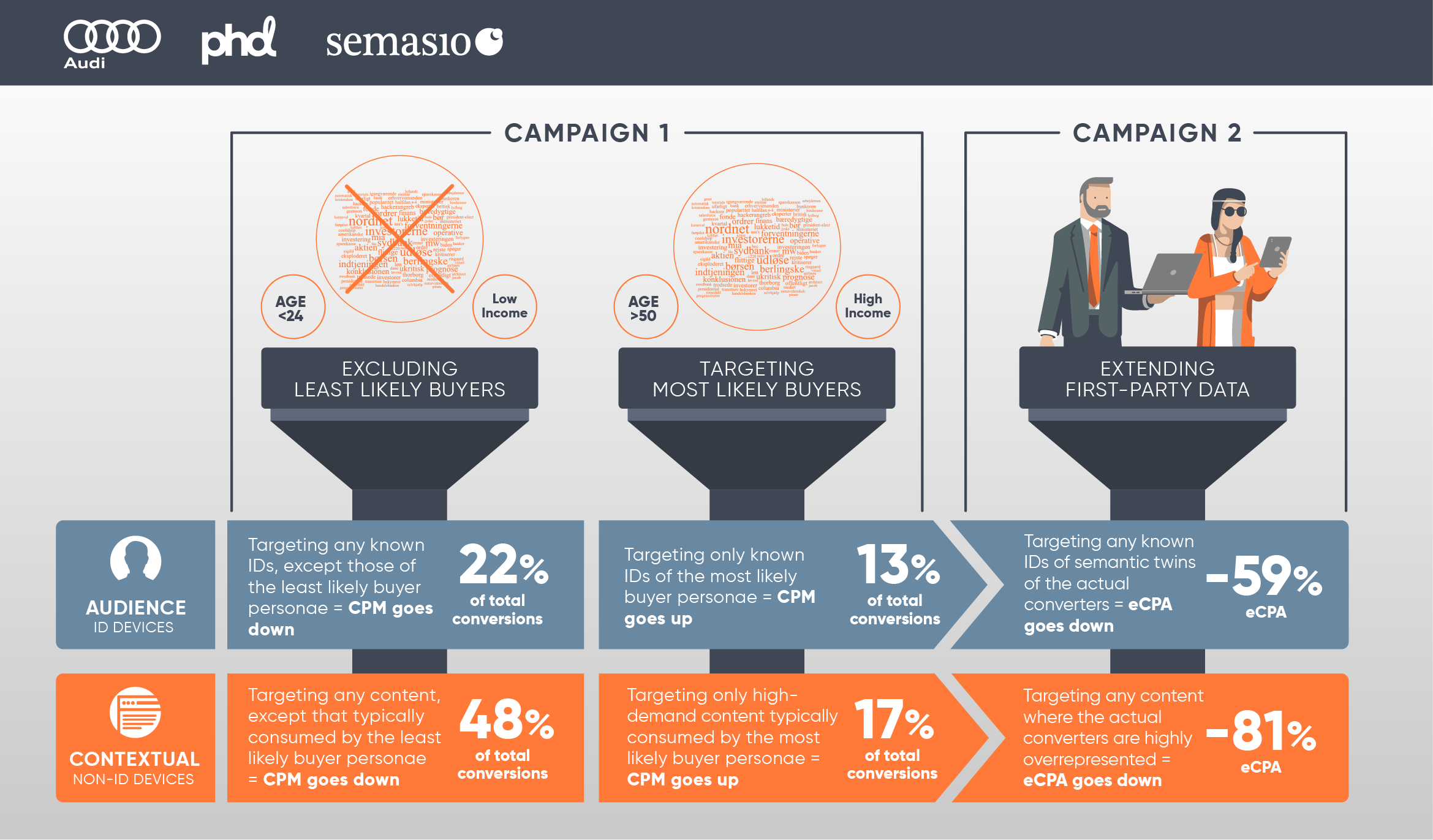 Niklas Theakston, Digital Manager at Audi Denmark, is very pleased with the outcome: "The two test campaigns we ran with Semasio and PHD Media Denmark have improved our understanding of what it takes to be successful in the privacy-first era. We have gained valuable insights into how we can continue to reach our target audience through future-proof intelligent media buying in the changing media landscape that will soon become a reality for advertisers worldwide."
"The elephant in the room we don't like to talk about today is that a large portion of internet users are no longer targetable via 3rd-party cookies. The Danish Digital Dystopia with only 35% user-level identifiability is an exacerbated version of the market dynamics we see in most countries and thus a great sandbox to study the effects of cookie-less targeting strategies," says Kasper Skou, CEO and co-founder of Semasio. "What this test shows us is that unifying user- and page-level targeting as well as tapping into the surprising potential of exclusion targeting create a resilient strategy, which will dynamically adapt to the percussive ecosystem changes we are headed for."
About Audi Denmark
Audi Denmark is part of the Semler Group – Denmark's largest group in the automotive industry. The car import has existed since 1975 and during that period the Audi brand has experienced great success. Audi Denmark currently has eight dealers and 27 authorized service partners throughout the country and the brand has a strong image and an attractive and advanced model program.
Audi's vision is to be the most attractive and innovative premium brand, and when it comes to mobility of the future, Audi will focus on sustainable and environment-friendly products and technologies.
About PHD Media
PHD is a growth-obsessed agency that believes in the remarkable power of imagination.
Since it was founded in London in 1990, as the first media agency to offer strategic and creative planning, PHD has been helping clients achieve disproportionate growth. Today with over 100 offices in 74 countries, PHD remains in the business of growth, with a challenger mindset and focus on creativity.
Using its proprietary gamified operating system: Omni Studio, which enables us to work together in a live environment, PHD creates ideas that go beyond expectations; ideas that enable brands to move beyond incremental improvements and make the leap above their competitors. This approach has paid dividends for PHD's clients as well as the network. PHD is ranked in the top four most globally awarded networks in the world (according to the 2020 WARC Media 100) and crowned Network of the Year at M&M Global 2020.
The PHD network is part of the Omnicom Media Group, a division of Omnicom Group Inc. (NYSE: OMC).  
PHD | Make the Leap
www.phdmedia.com
About Semasio
Semasio is the first Unified Targeting provider uniquely positioned to bridge the gap between Audience and Contextual targeting. Programmatic advertising professionals can now preserve user-level targeting capability beyond 3rd-party cookies and become future-proof with seamless extension to the page-level. With over a decade of expertise in data, targeting and NLP-driven semantic analysis, Semasio is a trusted partner of leading global media agencies, brands and publishers, delivering outstanding results through combined strategies in performance and branding campaigns. Founded in Hamburg in 2010 by Kasper Skou (CEO) and Thomas Rask Thomsen (CTO), today Semasio has offices across Europe and in New York, is active in nearly 30 countries and supports over 25 languages. For more information, visit www.semasio.com or follow us on LinkedIn.